Intel 8th Generation Desktop Processors Launch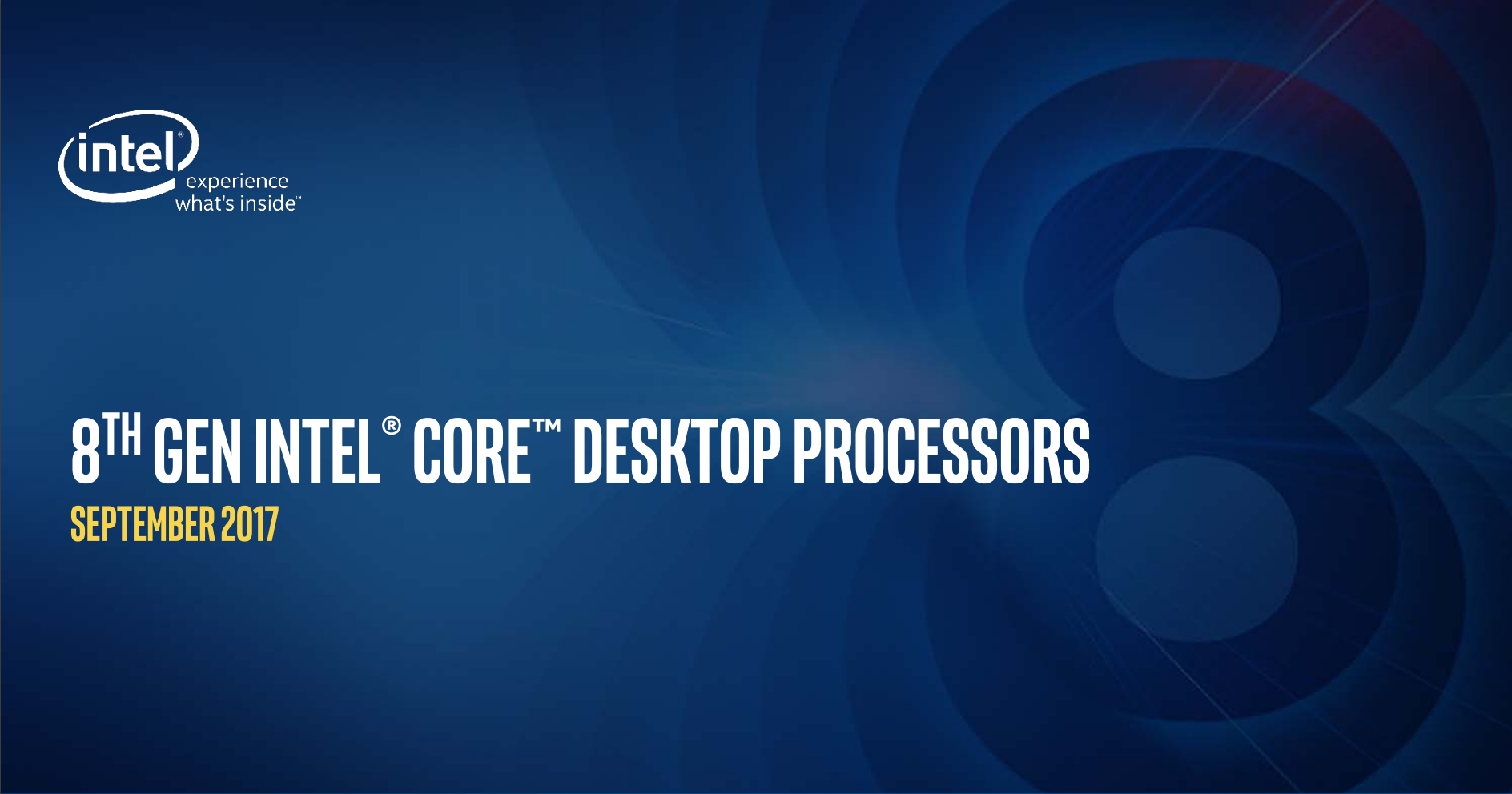 Intel 8th Generation Desktop Processors Launch
Written by John Ham
Published Tuesday, October 3, 2017 - 13:13
What's this? Another processor launch in 2017?  Can it be? 
Yes, it's the 8th generation desktop i7, i5 and i3 processor launch by Intel and it's the second launch of desktop processors for Intel in 2017. The last few months have been a little confusing for Intel launches and this one seems to add to that train of thought. Don't get us wrong, we love new stuff and this launch has some great benefits that previous 7th generation didn't provide.
Don't confuse the confusion..... Yeah.... It's exciting as we actually have some serious changes to the original concept of i7, i5 and i3 processors.  We pulled this information from the Intel press decks and wanted to give all our readers some precise information on what to expect.  Below you will find the original slides (check notes on slides) and what Intel has to offer this time around for its 8th generation desktop processors.  Let's dive in!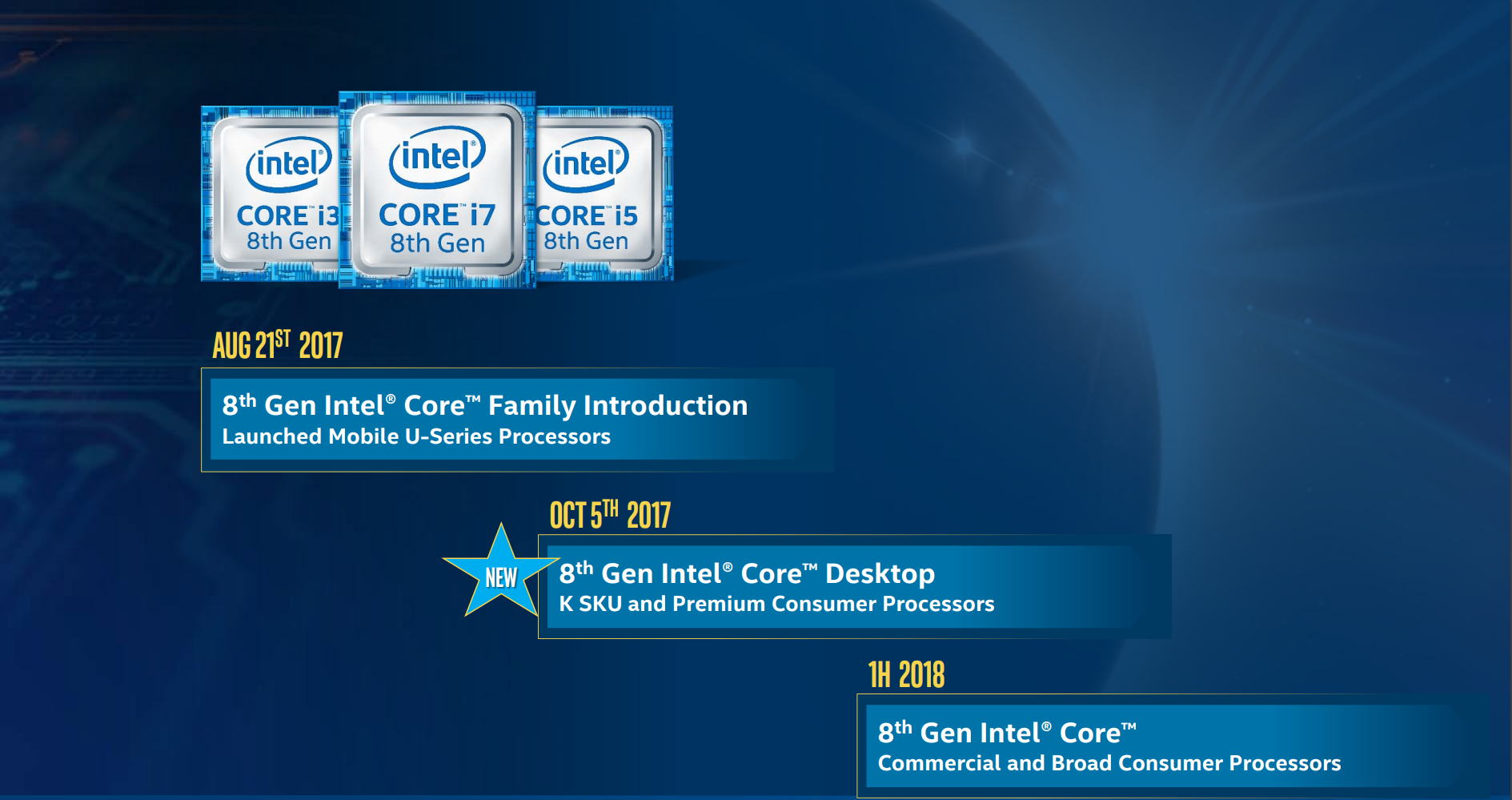 When can we expect this new series to land?  As you can see from the slide, you can expect the Coffee Lake desktop series to land October 5th, 2017.  You can also expect the commercial and broad consumer processors within the first half of 2018.
Now that we know when, let's discuss why and how this launch happened.  For some, this launch is a little bitter sweet as Intel launched the 7th generation in Q1 of 2017 and only 10 months later we have a new series that offers higher core and thread count. Intel's i7 and i5 series are not cheap and when you consider motherboard and CPU prices combined, you are easily in the $350-$500 price range for two components of your system. That being said, I believe this launch is still positive and should be received as such.
Intel has finally moved away from the 4 core and 8 thread design for their flagship i7 series and now offers 6 cores and 12 threads.  Intel has been on the same core/thread count for the i7 since its original name and launch back in 2008.  That means, we have been stuck on the same number of processing cores for the past 9 years with only adjustments to process node, instructions per cycle, features, instruction sets, iGPU, etc.
Intel has always offered higher core count in the form of HEDT (High End Desktop), but that solution has always come at a cost and your wallet/wife might not forgive you.  With the launch of a i7 x700 series finally offering 6 cores with 12 threads, gamers, powers users, content creators and streamers can finally have an affordable solution.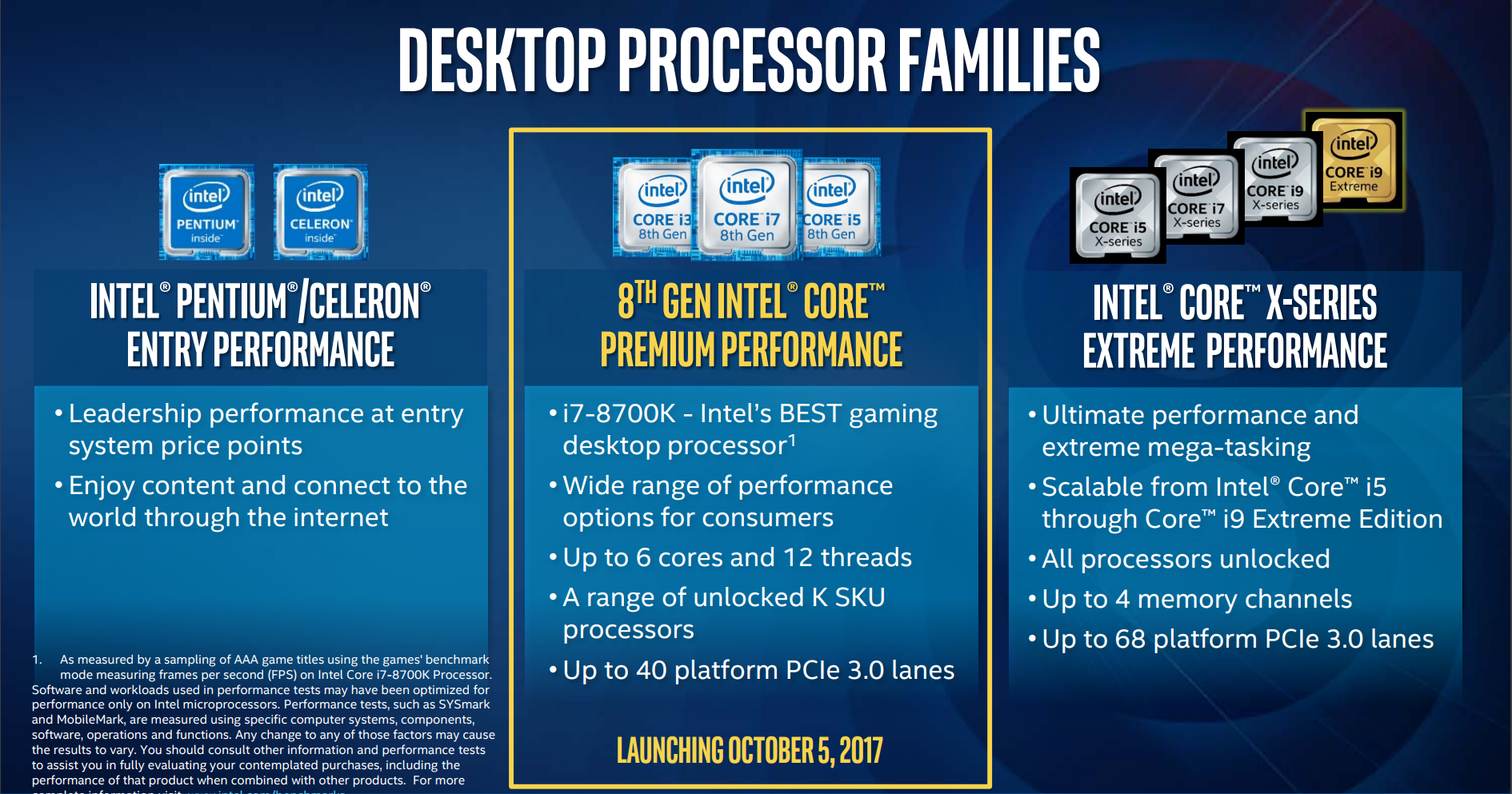 As most of you know, the i5 series has always matched the number of cores it's big brother (i7) has, but contains half the threads due to HyperThreading being disabled at the hardware layer.  This launch is no different, you can now expect a 6 core i5 series and a 4 core i3 series processor.  This is HUGE for the budget gamer or general desktop user.
Again, this might be bitter sweet for a lot of users that bought into the 7th generation line of Intel CPUs, but all others will benefit greatly.  With this new line, Intel has kept its same trend of new motherboard and chipset requirement.  This launch is no different and you will now need to purchase a Z370 series of motherboard.  We have listed a few that should be available at launch and will be compatible. We also listed the launched chips themselves for ease of search.
Processors
Intel Core i3-8100
Intel Core i5-8350K
Intel Core i5-8400
Intel Core i7-8700
Intel Core i7-8700k
Motherboards
Asus TUF Z370-Plus Gaming
Asus Prime Z370-A
Asus ROG STRIX Z370-I Gaming mini-ITX
GIGABYTE Z370 Aorus Ultra Gaming
GIGABYTE Z370 Aorus Gaming 7
GIGABYTE Z370 Aorus Gaming 5
For a quick reference, we have added a table diagram with the specifics of each processor below.
|   | i7-8700k | i7-8700 | i5-8600k | i5-8400 | i3-8350k | i3-8100 |
| --- | --- | --- | --- | --- | --- | --- |
| Base Clock (GHz) | 3.7 | 3.2 | 3.6 | 2.8 | 4 | 3.6 |
| Turbo Boost (GHz) | 4.7 | 4.6 | 4.3 | 4 | N/A | N/A |
| Cores/Threads | 6/12 | 6/12 | 6/6 | 6/6 | 4/4 | 4/4 |
| TDP | 95 | 65 | 95 | 65 | 91 | 65 |
| Cache | 12 MB | 12 MB | 9 MB | 9 MB | 8 MB | 6 MB |
| Price (USD) | $359 | $303 | $257 | $182 | $168 | $117 |
Something that should be mentioned, please be careful if you are purchasing any new components for an Intel or AMD build as naming confusion is in full swing!  The Intel series uses the "Z" designation for their chipset series Z370 and the AMD series uses and "X" for their designation of X370 chipset and boards.  Thanks AMD for the heavy trolling and confusion!
With this new launch, we finally have more options and cores/threads that AMD has already been offering.  Not only do we get more, we get it for the same price a previous generation and with the potential of great clocks for single threaded performance.  Between Intel and AMD, it's a great year to be in technology and an even better year for upgrades!