New Budget King: Welcome AMD Ryzen 5 2400G and Ryzen 3 2200G
New Budget King: Welcome AMD Ryzen 5 2400G and Ryzen 3 2200G
Written by John Ham
Published Monday, February 26, 2018 - 15:37
AMD has officially launched the latest in Accelerated Processing Unit (APU) code named "Raven Ridge".  For those that don't know, these APU units combine both CPU and GPU processing power in a single chip, enabling 3D accleration and gaming without the need of a dicrete graphics card.  Unlike all the previous generation of APUs before Raven Ridge, this round contains a much needed refresh of the APU architecture and incorporates the latest in AMD technology (Ryzen CPU and Vega Graphics).  AMD has released two variations of the Raven Ridge APUs, Ryzen 5 2400G and the Ryzen 3 2200G.  For those familiar with the Ryzen series CPUs, the Ryzen 5 2400G contains a quad-core with SMT (4 Core 8 Threads), while the Ryzen 3 2200G doesn't have SMT (4 Core 4 Threads).  Below we have listed all the details for each APU and it's respective features and specifications.
|   | Ryzen 5 2400G | Ryzen 3 2200G |
| --- | --- | --- |
| Base Clock (GHz) | 3.6GHz | 3.5GHz |
| Turbo Boost (GHz) | 3.9GHz | 3.7GHz |
| Cores/Threads | 4/8 | 4/4 |
| TDP | 65 Watt | 65 Watt |
| Cache | L2: 2MB L3: 4MB | L2: 2MB L3: 4MB |
| Vega Graphics | Vega 11, 11 Cores @ 1250MHz | Vega 8, 8 Cores @ 1100MHz |
| Price (USD) | $169 MSRP | $99 MSRP |
Not only do these offer excellent CPU performance with 4 cores and 4/8 threads, the Vega graphics of these APUs actually provide capable performance and gameplay experience unseen by embedded graphics previously.  This launch of Raven Ridge APUs couldn't have been more welcomed, as many are feeling and experiencing the pain of GPU shortages and price gouging.  If you are looking to build and can't afford the current market price of dicrete GPUs, you finally have an answer and it's Raven Ridge!  Forget the lackluster performance of Intel's iGPU, these APUs provide a vastly surperior gaming experience beyond what Intel's iGPU ever could.  That being said, it is highly recommended that you use two sticks of DDR4 memory as it plays a major role in the performance these APUs can provide.  You might also consider a beefier cooler as these APUs are completely unlocked and allow overclocking of the embedded Vega graphics and the CPU cores.  Below is a sample provided by AMD for gaming performance compared the Intel's latest 8th generation CPU and iGPU.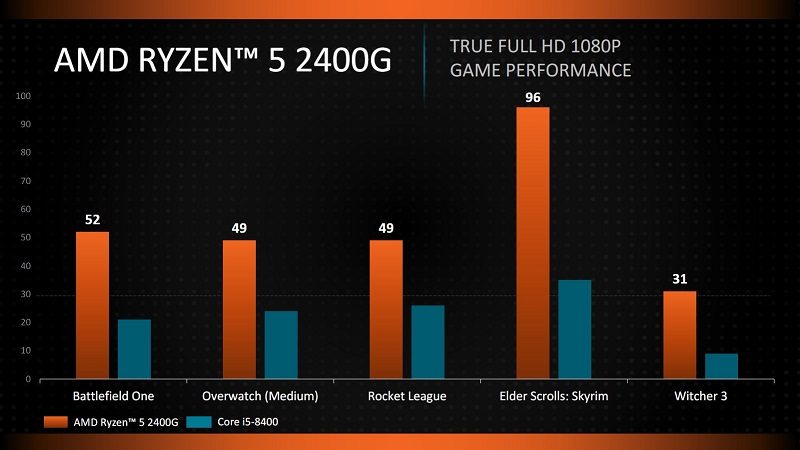 Here are some direct links to Amazon to find these APUs and support our content and site through their affiliate program.  These APUs are support by the A320, B350 and X370 motherboards, but will not work on older bios versions and updates will be required.