DEEPCOOL Tristellar SW: Review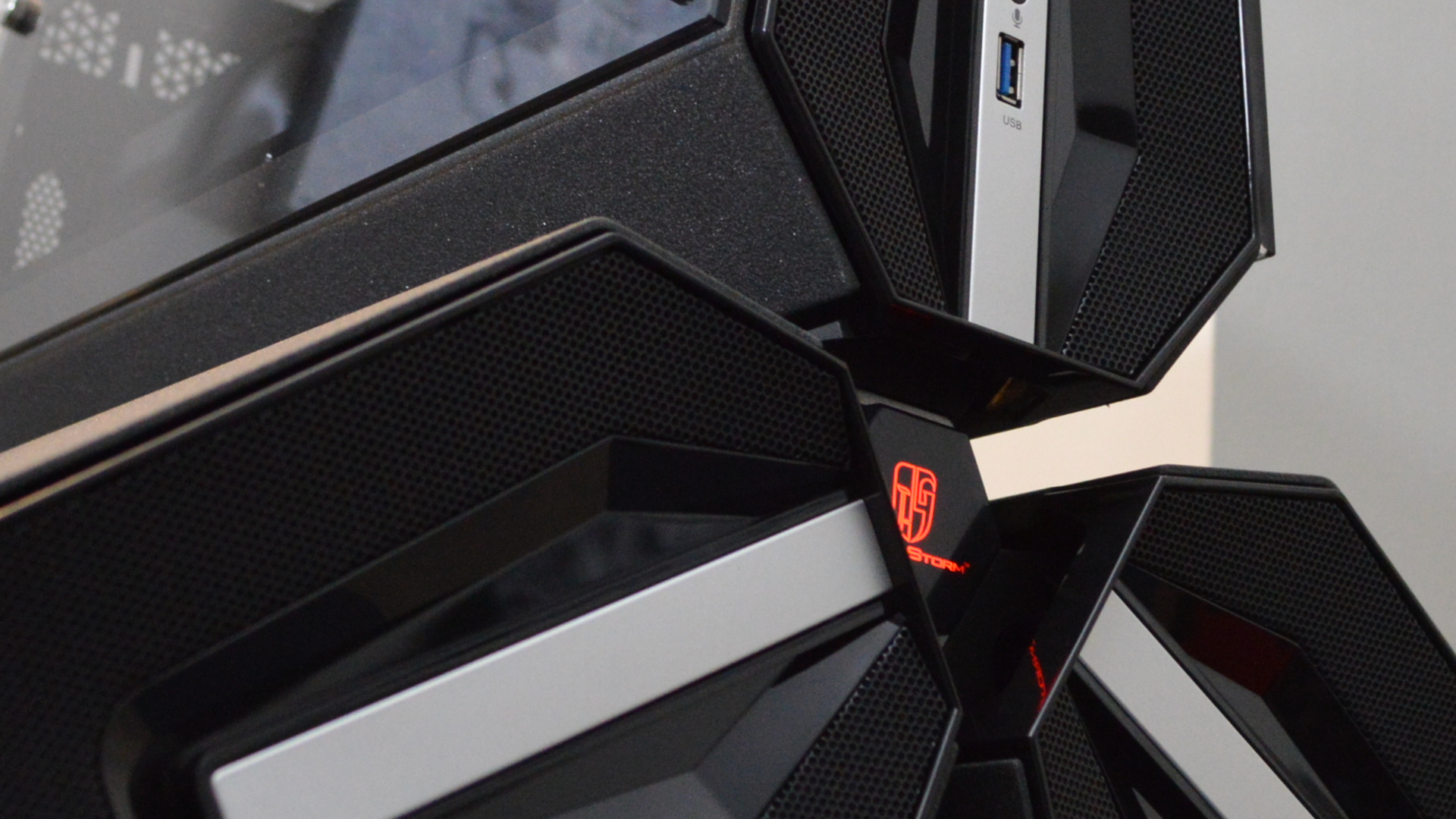 DEEPCOOL Tristellar SW: Review
Written by John Ham
Published Monday, July 23, 2018 - 12:42
In the last couple of years, I've become a fan of the mITX form factor and the industry innovation around it. A couple of years ago, I built a mITX machine using the NZXT Manta and an Intel i5-6600k for gaming and office productivity tasks. The little computer still runs well, but I figured it was time for a case upgrade and the DEEPCOOL Tristellar SW caught my eye. I was looking for something unique instead of tiny and the Tristellar looks like a perfect fit for a showcase system.
Introduction
DEEPCOOL launched the mainstream Tristellar case back in April of 2015 with a high price tag to boot. The unique design includes three cabins with room to support most components. Each cabin has isolated temperature from the other cabins and meet at a central hub for wiring and shared access. For a better description, each cabin can be broken down into three categories: Motherboard, GPU, Power. The Motherboard cabin can host a 120mm AIO or support an air cooler with a max height of 80mm. You can also use a 5.25" optical drive, but this removes the capabilities to support a standard 120mm AIO cooler. The Power cabin can support a full sized ATX power supply and has two 3.5" drive bays. The GPU cabin can support a graphics card under 320mm in length and provides mounting for three 2.5" drives.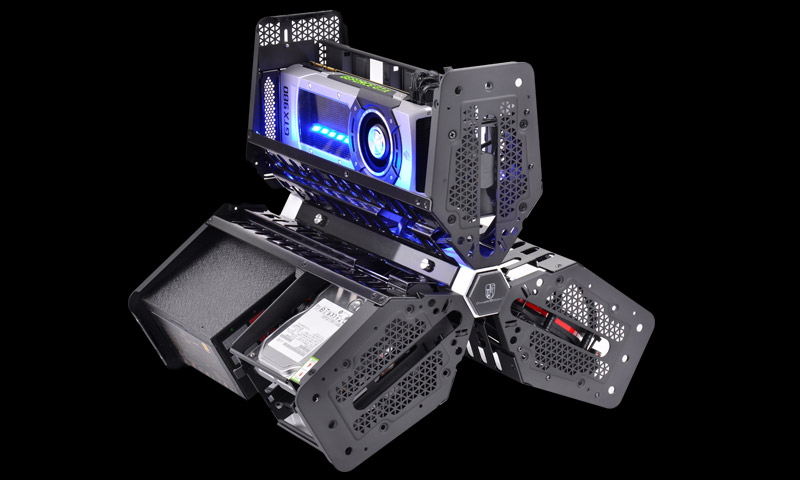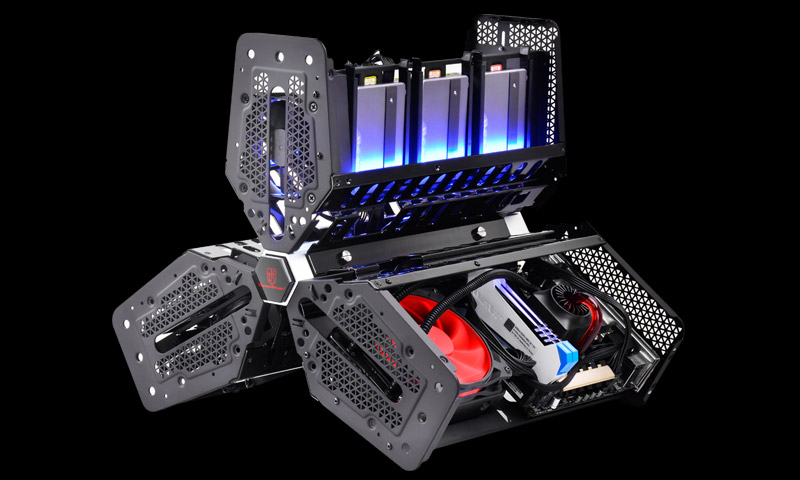 Case Details
It should be noted that if you use an air cooler, you can mount a standard 120mm fan in the Motherboard cabin to increase airflow and cooling. This is different if using an AIO and you may choose to push or pull air into the cabin depending on preference.
Case Specifications
| Tristellar SW | Details |
| --- | --- |
| Materials | SPCC + Toughened glass (Panel thickness: 0.6mm; Cabin Cover thickness: 2mm) |
| Dimension | L395×W435×H388mm |
| Weight | Net.: 10.55KG Gross: 13.53KG |
| 5.25" Drive Bays | 1 (Motherboard Cabin) |
| 3.5" Drive Bays | 2 (hot plugging port) |
| 2.5" Drive Bays | 3 (hot plugging port) |
| I/O Panel | 2×USB3.0/Audio×1/Mic×1 |
| Expansion Slots | 3 Slots |
| Cooling Fans | 1×90mm Black (GPU Cabin) |
| Power Supply Type | ATX PS2 |
| CPU Cooler Compatibility | 80mm height / 120mm Liquid Cooler |
| GPU Compatibility | 320mm |
| Motherboards | MINI-ITX (mITX) |
Features
Three independent cabins respectively designed for the Motherboard, VGA Card and PSU/HDD, providing the penultimate cooling solution for the PC.
Support vertical installation of 1x ultra-long (max 320 mm) and ultra-wide (3 PCI Slots) VGA Card.
Aluminum casing and striking paint job provide enhanced cooling performance & visuals while greatly reducing the weight of the case.
5x hot plugging (SATA) ports (2x 3.5-inch HDD and 3x 2.5-inch SSD).
2x USB 3.0 ports.
Support tray-loaded optical disk drive (ODD) installation.
1x pre-installed 90 mm black fan in the VGA cabin.
Support water cooling system installation (120 mm radiator).
Support standard ATX PSU (max dimension: 150 x 160 x 86 mm).
Fully black interior.
Equipped with PSU dust filter.
Support cable management.
Side window makes GPU visible.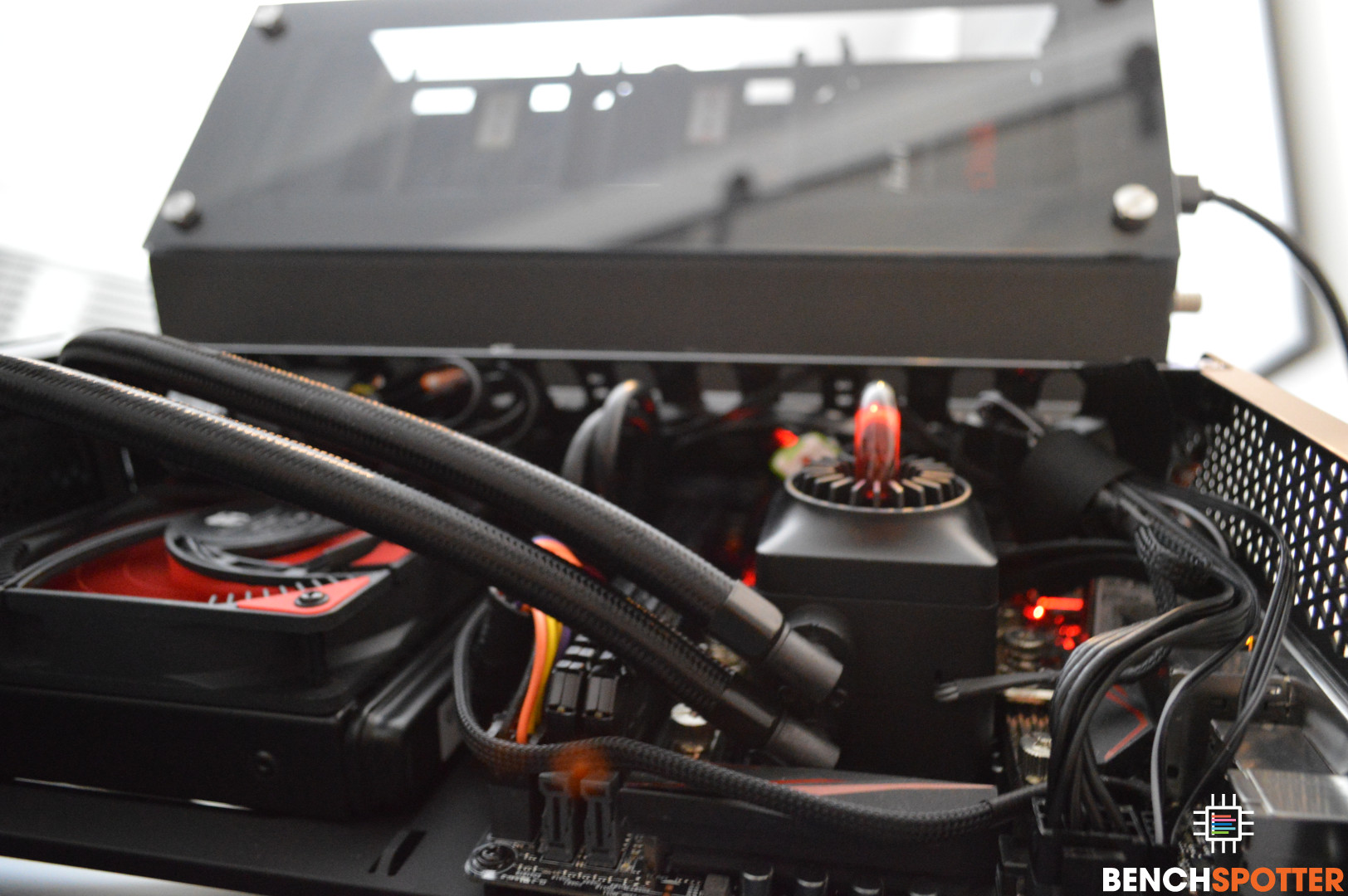 Build Notes
Don't be fooled by other cases, this case is solid, and the metal is thick. It feels a little cumbersome to perform some basic tasks in each cabin especially while snaking wires through for power connectors.
It's incredibly easy to access each cabin, and the spacing of each cabin allows just enough to maneuver hardware and cables. All cables have to snake through the middle section which leaves very little room at points. Smaller hands might have an easier time build in this case, but it's certainly possible with a bit of patience otherwise.
The included 80mm fan in the GPU cabin is of standard quality and honestly should have been of premium quality and airflow.
If using an AIO, I recommend finishing the SATA and power connectors through the central hub before installation as room to maneuver becomes difficult otherwise.
DEEPCOOL took things a step further and evel labeled all the SATA connectors for the 2.5" and 3.5" cabin locations. This was incredibly helpful and no guessing was invovled to finish the build.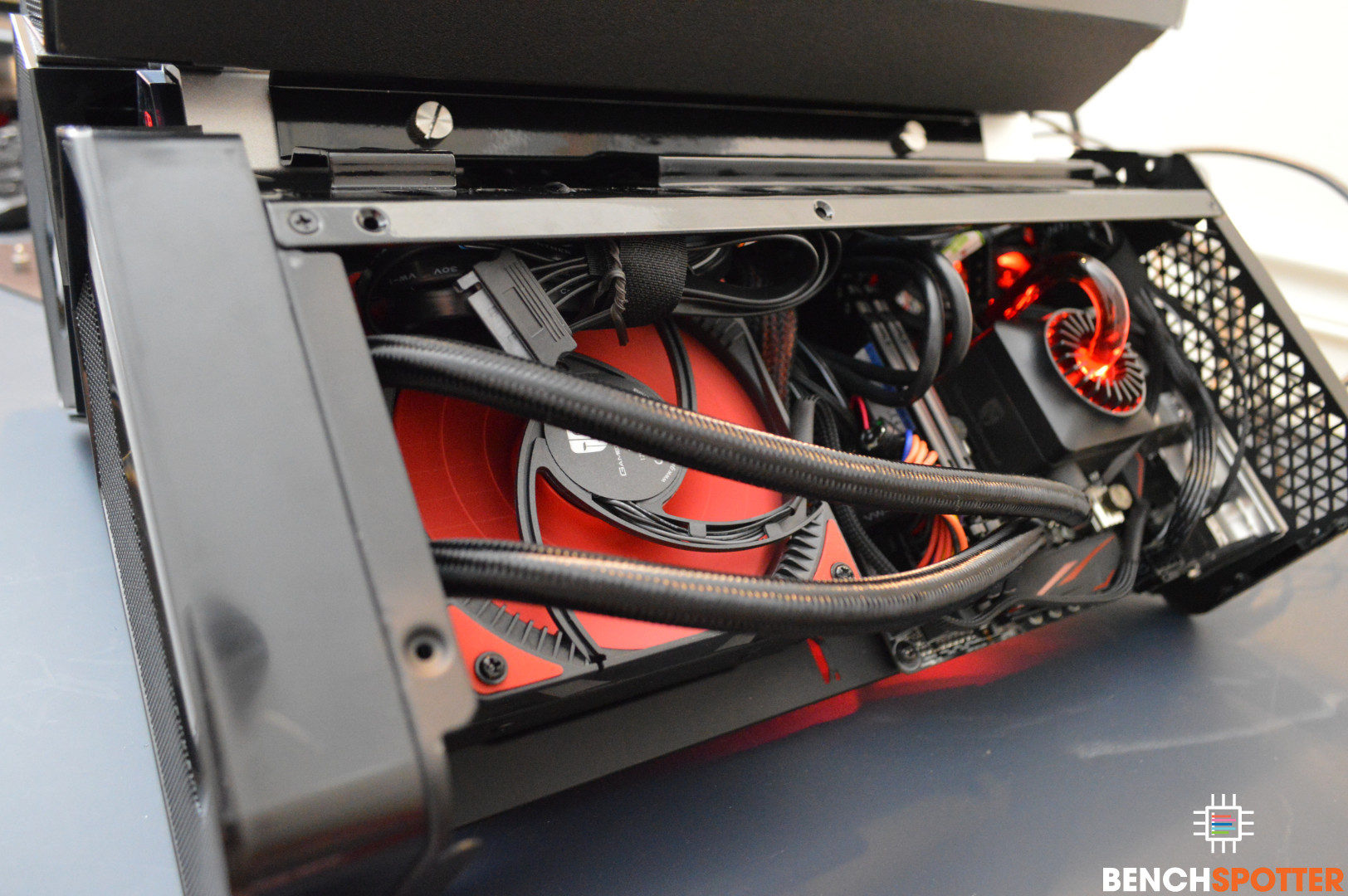 Conclusion
This case indeed isn't the smallest when it comes to mITX cases; regardless, it's a unique and beautiful design that allows for showcasing your battlestation. The material used is exceptional, and the build quality is nothing short of fantastic. All the way from the external finish to the glass panels, you can feel the quality. Of all the cases I've used, this case certainly feels the most durable and solid. My only real complaint would be the 90mm fan included in the GPU cabin.

I found elevated thermals for my GPU during extended gameplay due to the limited airflow in the GPU cabin. Perhaps a better fan would eliminate the higher temperature or a reference blower style GPU would work better.
Recommendation
I'm a bit torn on the recommendation because of the price. Based on the conclusion section, you should have an idea of the quality this case provides. At about $200 (USD), I saw this case as a luxury to showcase your battlestation and less about practicality. With that in mind, I highly recommend this case if budget isn't a constraint.

Where to buy?
Action Shots