Cryorig H5 Universal: Unboxing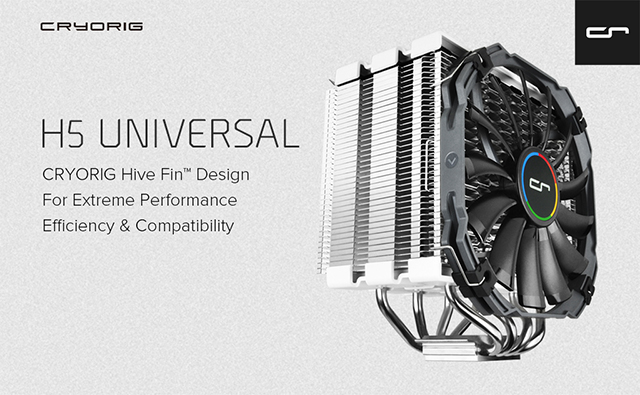 Cryorig H5 Universal: Unboxing
Written by John Ham
Published Tuesday, August 29, 2017 - 10:28
This is just a simple unboxing of the Cryorig H5 Universal
CPU cooler with a picture log of contents and first impressions.  With a lot of Intel i5 and i7 users out there, we thought this cooler would be a great candidate for an overclocked Intel i7-6700k series desktop processor. At stock voltages and clock frequency, the Intel i7-6700k has a TDP expectation of 91-93W in total and should make for a great test case.
Given the 91-93W TDP needs of our Intel i7, the Cryorig H5 Universal
is specified as providing a 160W max thermal dissipation. With that knowledge, we will push our Intel i7-6700k to it's thermal limits and see what kind of results we could get. The results of this will be provided in the final review, but for now enjoy the unboxing and preview of this unique cooler.
First Impressions
The box is rather standard with a white and gray theme which matches the crisp and lite design of the cooler itself.  The box clearly states 160W TDP (on the back) and provided a simple but visually appealing preview of the cooler inside.
Unboxing
Opening the package, it's tucked in neatly and protected by brown cardboard and heavy lined plastic.  It comes with the fans and shroud pre-installed and only requires the base/mount installation.  Based on the packaging and online material (prior to purchase), it supports the following sockets:
| Intel Socket | AMD Socket |
| --- | --- |
| 775 / 1150 / 1151 / 1155 / 1156 / 1366 / 2011 | AM2 (+) / AM3 (+) / AM4 / FM1 / FM2 |
What does this mean?  Welp, it pretty much means that if you have an AMD or Intel desktop processor within the last 11 years, this cooler will fit your socket/cpu.  A lot of the popular coolers currently on the market don't ship with AM4 mounting equipment but this unit does. There is a list of AM4 compatible Cryorig coolers and if brackets are included or should be requested here.
Visually, the fins have a unique hex/hive style bending and provides a different look and style to your normal heat fins on most coolers. It's advertised as providing enhanced cooling through increased surface area and space. This might just be marketing but it has some merit and will need some testing to check this coolers overall viability.
The CPU cooler feels very solid and has a total of 38 fins and 4x6mm heatpipes to dissipate heat.  The base is listed as C1100 pure copper nickel plated and the fins are straight aluminum.  Total dimensions of the heatsink are L98mm x W143mm x h260mm (for those measuring case clearance).  The cooler is decent in size but compact enough to provide clearance for all RAM slots. I provided a few photos next to a standard 3.5" HDD for scale and reference.  Based on material from Cryorig, it's been measured to provide cooling up to 160W TDP at a max of 24 dB(A)!
Final Thoughts
Overall, this unit seems to have excellent build quality and visual design.  I have yet to test the cooler but it looks and feels promising.  The specs on Cryorig's website are impressive for it's size and MSRP pricing.  I will update this post with a link to the final review and results of putting this cooler to the test.  Thanks for reading and I hope you enjoyed the this Unboxing!
Action Shots